The Pre-Engineered steel structure are designed for resistant to moisture, adverse weather conditions,  earthquake, termites & fire that provide you with lifelong durability, safety & very low cost of maintenance. Pre-engineered steel building is a very simple and economical with the necessary Architectural, Engineering & Construction with Pre-engineered steel Buildings.
A metal Building system is selected for the Project at hand, the next milestone is choosing among the available types of Pre-Engineered primary framing. Proper selection of primary framing, the backbone of Metal Buildings, goes a long way toward a successful implementation of the design steps to follow. Some of the factors that influence the choice of Main Framing include:
Dimension of Building: Width, Length & Height
Roof Slope
Required column- free clear Spans
Occupancy of the Building and acceptability of exposed steel columns
Proposed Roof & wall materials.
Nomenclature of Pre-Engineered Building / Metal Building.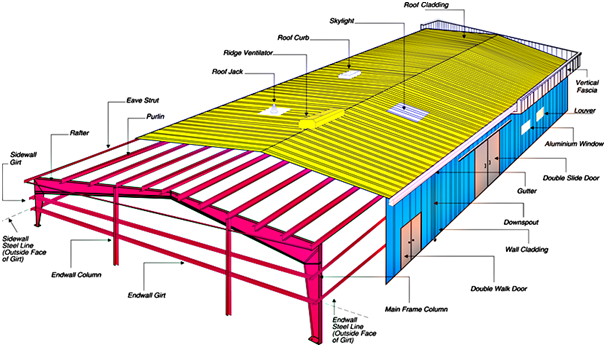 The inherent quality of the PEB themselves is a huge contributory factor for this favorable response.
Reduce Construction Time
Flexibility of Expansion
Large Clear Span
Low Maintenance
Energy Efficient Roofing and Wall Systems
Architectural Versatility