We are providing following basic services
Engineering solutions
Turnkey solutions
Manufacturing process
Erection and final installation
Engineering Services
Our in-house team for designing and detailing services has executed extensive projects, which have demanded complex engineering inputs like large spans, complex forms, heavy sections, etc.
We use an advanced proprietary design and engineering software that is fully integrated with manufacturing and logistics support. A highly efficient tool that enables industry standard CAD-CAM for desired accuracy in manufacturing processes, it enables the architects, consultants and engineers to collaborate and design a structure down to the minutest detail, giving accurate analysis and details related to the entire structure of the building.
Our proprietary Software supports various architectural approaches, accommodates revisions and reduces both design and estimation time by providing relevant costs at an incredible speed.
Moreover, it also complies with building codes like AISC, MBMA, IS,  among others. and incorporates varying needs of the region through post site evaluation weather loading factor calculations.
As providers of quality structural engineering services, we work closely with our clients to provide efficient, end-to-end engineering solutions for all your requirements with definitive solutions for time and cost overruns.
Turnkey Solution
We provide system that can be easily implemented into current business processes. A turnkey solution is immediately ready to use upon implementation and is designed to fulfil a certain process such as Engineering, Design and Preparation of Drawing, Pre-Fabrication, Painting, Quality control, Shipment, Erection at site and hand over.
Manufacturing Process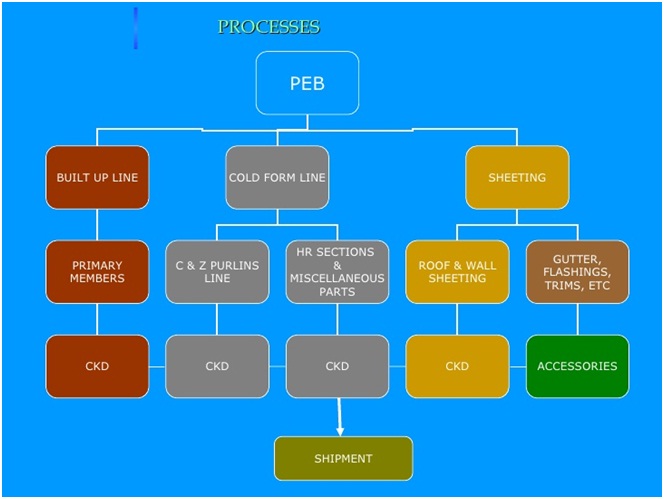 Erection & Final Installation
Once the base is ready, the prefabricated components of a PEB are erected with the primary and secondary structural systems being set up first with the help of anchor bolts and brace rods. After this, the skins or claddings along with the appropriate accessories are installed, covering the main steel frame within.
We offer skilled expertise and comprehensive technical advisory services to our clients – right from the selection of appropriate structures and economic designs to adaptation of local building codes. We monitor and supervise the entire project until completion ensuring timely delivery and excellent product quality.